Promotional Advertising Items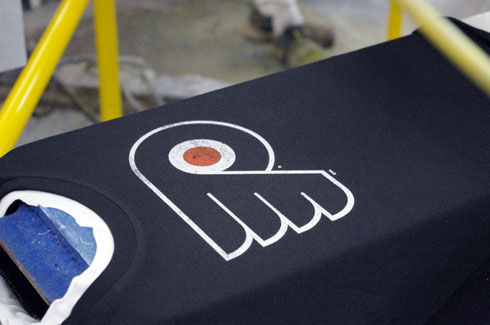 Last night I attended a preseason hockey game where the Philadelphia Flyers played against the New York Rangers. Flyers games are held at the Wells Fargo Center in Philadelphia and organized by Comcast Spectacor. While walking around the arena, it's interesting to see all of the different promotional advertising items that are being sold with the team's logo. Trying not to spend all of the money you have on you is extremely difficult! Besides all of the logo apparel and accessories, there are tons of food and drink stations, as well as bars, arcade games, and gift shops. For the average Flyer's fan, walking around the Wells Fargo Center is worse than being a kid in a candy shop!
When we first arrived, we had a little over an hour to kill so we wanted to grab a drink and check out some of the shops. Conveniently, there was a Chickie's & Pete's located in the bar right by our seats, so we stopped in for a drink and crab fries. If you don't attend sporting events in Philly very often, crab fries are a must! Then we got a drink to go and went searching for the stores with promotional advertising products.
The first things we looked for were t-shirts and jerseys. I'm not very good at telling the difference between the real thing and a knock-off, but who I was with was a professional at it! We had a lot of fun watching the people with jerseys on and trying to determine whether or not they were authentic. The Winter Classis jerseys are the hardest to distinguish because they're only popular once a year. After scoping out some one the clothing stores, we came to the conclusion that we could by almost all the same things at a sporting goods store for a lot less. The t-shirts all started at $30 and the hoodies were never less than $50 or 60. Even a simple racer-back tank top with a Flyers logo cost $35, and the most basic hats were all $28 or more. I really wanted a hat but was reluctant to spend that much. We decided we could probably find Flyers' promotional advertising items a different time.
By this time, the game was about to start, so we found our seats in section 209 (a pretty good view I must say!). After the first period was over, we took to the corridor to find some more fun things to check out. Along the sides, there are table hockey arcade games set up. They resemble foosball, but with hockey players instead. It was only a dollar to play, and needless to say I kicked my friends butt! We lost track of time because I was having so much fun winning and went into the third period a minute or two late (luckily we didn't miss anything too eventful).
After the second period, we had done and seen almost everything except the claw machines where you can win stuffed animals and other prizes. I was intrigued by some of them because it only cost a dollar to play, and they had some pretty good promotional advertising items with Phillies, Flyers, and Sixers logos. When I put in my money to play, I realized that any of the team paraphernalia was going to be near impossible to win. In fact, the only thing I even came remotely close to grabbing was a Dora the Explorer doll, which I wouldn't know what to do with anyway! Those machines get you because they make you think you'll be able to win expensive promotional advertising items for just a buck, but that's never the case!
The evening ended up being an absolute blast, and the Flyers won 5-3. The game was pretty close, and the first period housed a lot of good fights. The only downfall was leaving, because not only did we barely remember where we parked, but we also weren't sure where to go when leaving the parking lot! After finding the car, we still got lost looking for 76 because the alternate route signs are extremely confusing. Even though we didn't end up buying any of the promotional advertising items, we both spent a pretty decent amount between $8 beers, $10 fries, and $15 parking. The biggest thing to keep in mind if you plan on attending a lot of games is not to be sucked in to spending too much money. Season ticket holders probably lose a fortune because it's hard not to buy anything once you're there!