Types of Promotional Products
Why are promotional products a must for your company? Most businesses face the same problem when it comes to marketing: finding a tactic that will increase revenue, while not having to spend too much on it in the first place. The perfect solution is product branding by getting your logo seen by as many people as possible. You are much more likely to gain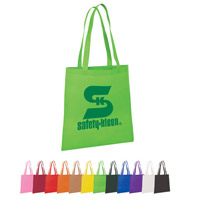 increased business from increased exposure. It's not just how many people hear of your company/see your logo, but also how often. If you hear of a company once or twice, you forget about it; but once they begin to build familiarity, you become interested. We've all heard of the term "household name." This is paramount for a successful business.
There are plenty of ways a company can reap the benefits of promotional products, with trade how giveaways being one of the most productive. Major trade shows can draw hundreds of thousands or even millions of people. Now that's a lot of advertising! Also, once your promotional products are distributed, imagine how many other people are going to see your brand. The best part of what we have to offer is that there is literally a product for everyone and anything that can be used to market your business.
Our products are successful because they create a win-win situation: your company networks and gains clients, while the clients are receiving a useful product from a company they will hopefully do business with in the future.
One of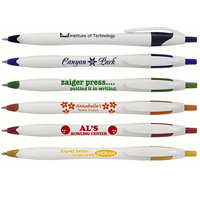 our best and most popular trade show giveaways includes personalized pens, such as the Dart Pen, which comes in six different colors. Pens are always successful when promoting a business because virtually everyone uses them. For our more eco-friendly customers, we have the Recycled Clicker Pen. This is a great way to show potential clients your dedication to the environment, as well as their business.
Another popular trade show giveaway is our Non-woven Budget Buster Tote. It is environmentally friendly, spacious, durable, and is available in 13 colors. It's a perfect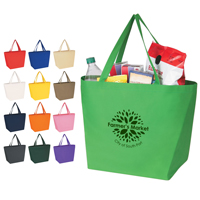 event giveaway because not only will customers go home with a practical gift, but they will also be able to use it to carry papers, other products, etc. during the trade show. This bag does it all!
Promotional products can be great for other things as well. Employers are always trying to find new and creative ways to encourage and motivate their employees. This can be done effectively by providing gifts or incentives. Our 20oz Bike and Sports Bottle could be given as a way to promote physical activity and healthy lifestyles among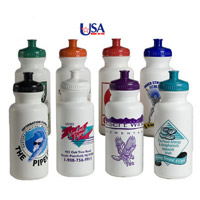 your staff. We also have a Personalized Breakfast Bag containing a breakfast bar, hot oatmeal, and a pack of hot chocolate. The Breakfast Bag is a great incentive to hand out to employees before a meeting. Even small things, like Personalized Stress Balls, or 'I'm Appreciated' Awareness Bracelets, can provide words of encouragement that go a long way.
Products with company logos can be given as gifts for specific occasions as well. Our company has a great selection of gift sets including the Sausalito and Hudson Mug Gift Set, which comes with a 16oz Travel Mug  and a 13oz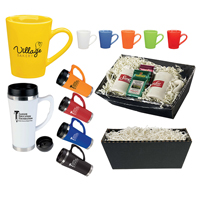 Ironstone Ceramic Mug, and the Sizzler 5-Piece BBQ Set.
Whether you're looking to gain potential clients and gain brand identity, or motivate and encourage your employees, our products are perfect because we take pride in the success they bring to companies. Utilizing the promotional products that our company has to offer has the potential to dramatically transform your business.